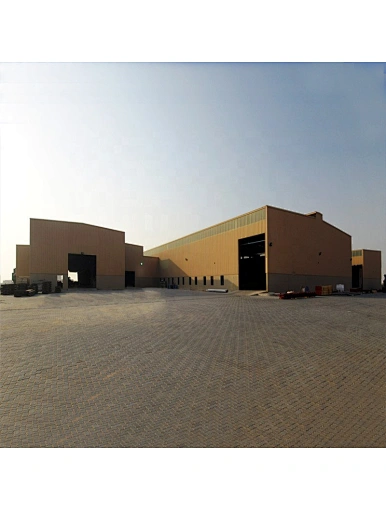 Steel structure prefabricated warehouses building design in Ecuador steel frame construction factory building price
Warranty: more than 5 years
After-sales service: online technical support, on-site installation, on-site training, on-site inspection, free spare parts
Project solving ability: graphic design, 3D model design, overall project solution
Application: Warehouse
Place of Origin: Guangdong, China
Design style: industrial
Surface treatment: painted or galvanized
Steel columns and beams: Welded H-beams
Purlins: galvanized C-section steel
Roof and wall material: rock wool sandwich panel, single steel plate. EPS sandwich panel
Main frame: welded H-beam
Door: sliding door or rolling door
Use time: 50 years
Structure type: portal steel structure
Window: Aluminum alloy window

Ecuador Steel Structure Prefabricated Warehouse Building Design Steel Frame Building Plant Solutions Prices



We can help you find a steel structure building solution that meets your needs, whether you want to build for a new manufacturing company, an industrial warehouse, or want to expand. All of our steel buildings are constructed from the highest, most durable steels that will stand the test of time. From ceiling lights and skylights to windows and doors, the options are endless when it comes to customizing your steel building.



Regardless of the size or custom needs of a steel building, Presidential is able to manufacture it to your needs.
For more information please send me an inquiry. We can provide an accurate quote for your project.

Steel structural components:
Frame structure: The main frame of the industrial plant is composed of H-section steel and C/Z-section steel; according to different regions, different temperatures, and different requirements, the maintenance structure can use single corrugated color steel plate, double color plate + glass fiber reinforced plastic, EPS sandwich panel , Rock wool sandwich panel, PU sandwich panel.

Painted steel columns and beams, paint thickness 100um.

Single sheet steel panels for walls and roofs.

Sandwich panel or iron sliding door.

Warehouse special parts bending plate.

Steel should be carefully packaged for adequate protection. Specifically, the main structural materials are generally packed in 40'OT shipping containers, while accessories such as skylights, ventilators, roof panels, and wall panels are shipped in 40'HC shipping containers.

3D Building Information Modeling software is used for the detailing of rebar and concrete in the building and construction industry, we make this model for our clients to create and manage 3D structural models of concrete or rebar and guide them through the process from concept to fabrication.

We provide a basic plan for your project for free. Please do a local geological report


if you need, we will be happy to send anchor bolts and dies. The groundwork can be done before the production work is done.

Architectural installation drawings.

Free installation diagrams for your project. Make erection work clearer and easier.

Also, we make different markings for each steel member, just refer to the drawings and choose the right one to build.

Our customers! Airport pickup! Factory tour! Office Discussion!